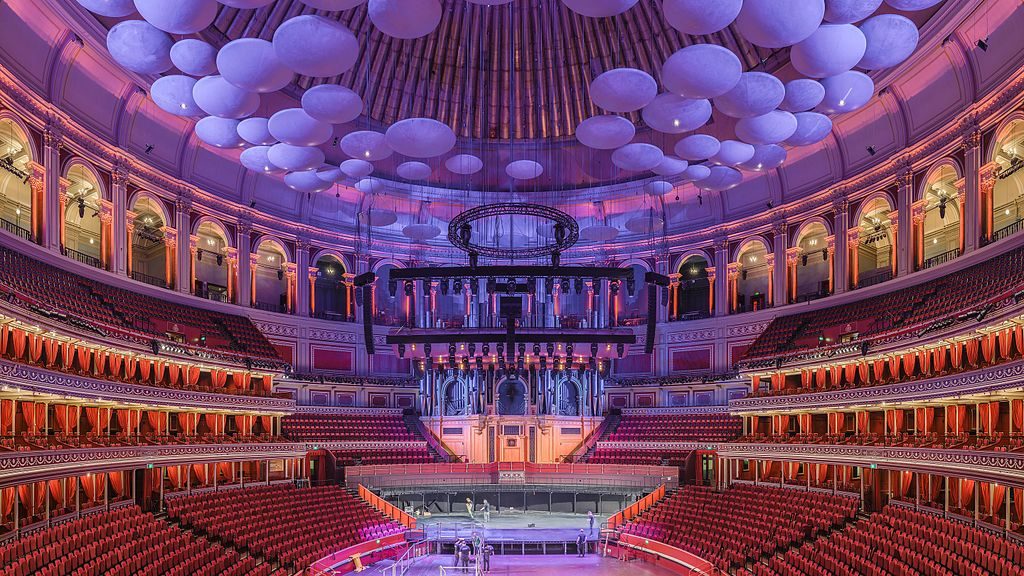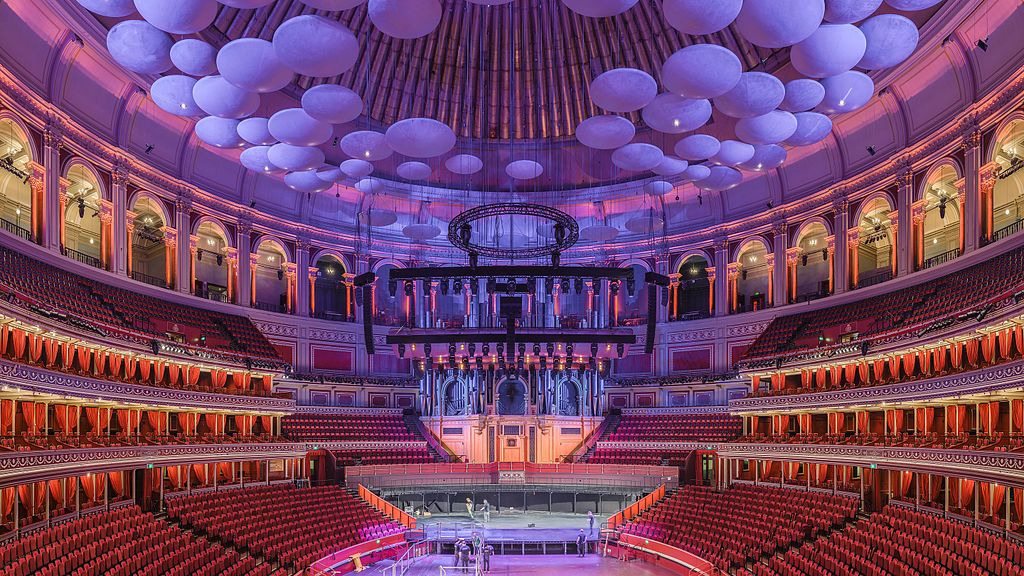 The Royal Albert Hall is best known for hosting the "BBC Proms", a summer festival of classical music concerts. Opened in 1871, it stands 83m wide by 72m deep and 41m high, with capacity for over 5000 guests. As fitting for Victorian Britain, the hall is ornately decorated, with red and gold the dominant colours. The fibreglass acoustic diffusing discs, normally beige, are here coloured by violet LED lights.
The building is only open to the public when attending a concert or on a guided tour, neither of which afford the time or opportunity to take high quality photographs. Fortunately, the RAH takes part in Open House London, an annual architecture festival where over 800 buildings are opened for free to the public over one weekend in September.
As a photographer in London, Open House is one of my favourite weekends of the year. The focus of the event is architecture, both modern and historical. Some buildings have extremely limited access, with a ballot run to award tickets. For example, access to 10 Downing Street or going up the BT Tower, but this also includes many small places that could not handle large crowds such as private residences. Other buildings are extremely popular, with huge queues to access. The Gherkin (30 St Mary Axe) is a prime example, as it can only handle 30 visitors at a time. Many though are more reasonable in terms of queues and volume of guests.
I decided to visit the Royal Albert Hall on Open House Saturday last year and joined the relatively short queue to enter at 9:30. Guests were guided round a set route which took in most areas of the building, including access to selected areas of seating on most levels. Photographically, this was a big advantage as the downside to Open House is that fellow visitors crowd in front of the camera, providing not only a distraction to the eye but also making long-exposure photography very tricky. Here, though, it was possible to photograph the hall without visitors appearing in the frame.
The image above is not a single photograph, but is stitched together from 21 frames. In fact, I took around 40 frames that cover a wide and tall area, and this is just a crop of the full stitched image. In order that the frames align correctly without parallax errors, one needs to use a special panoramic head on top of a tripod. This equipment ensures the camera rotates around the "entrance pupil" of the lens, which is where the light rays cross before being focused onto the sensor. The frames are stitched together on a computer, using a software package called PtGui.
One problem with photographing interiors is the extremes of brightness from the dark corners to the bright lights or windows. This is too much for a single photograph to handle with current technology. To get round this, I took three photographs for each frame, at 1/3s, 1.3s and 5s. These three exposures are combined by PtGui to produce a High Dynamic Range (HDR) image. This is then converted back to a standard JPG file with Photoshop Lightroom, using a technique called tonemapping.
The result is an image with far higher resolution, much lower noise, and better lighting control than could be achieved with even the most expensive camera in a single shot. It is time-consuming both to take and to develop afterwards, but this effort paid off with second prize in last year's Wiki Loves Monuments international awards.