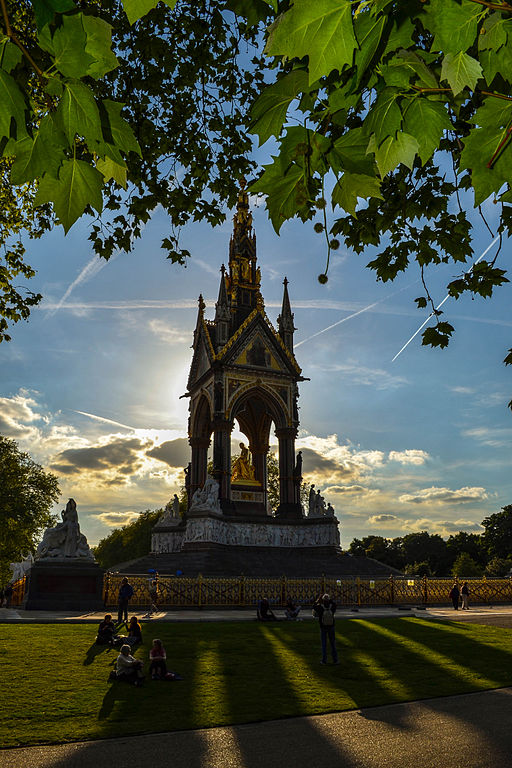 In October 2013, I received an unexpected email. A photo I had taken of the Albert Memorial and submitted to Wiki Loves Monuments UK had placed in the Top Ten as a Highly Commended photo.
I was shocked. Never in a million years had I expected one of the four photos I had submitted to the competition to place in the Top Ten.
The reason why – I was an amateur photographer, who had only received their first DSLR about six months earlier. I was still learning how to use certain components of the camera and my editing skills were shaky at best.
The photo that had placed, had been taken on an early June evening as my daughter and I wandered around Kensington Gardens, ahead of a performance we were to be attending at the Royal Albert Hall. I had noticed the tourists walking around the monument and taking photos, but I didn't want to take the typical tourist shot, I wanted a different perspective of it, I wanted it to be different.
I couldn't tell you now, what led me to that spot or even why. All I know was I saw an opportunity at that point for a different vantage point, a different perspective. With the branches and leaves of the tree framing the memorial and the low evening sun behind it, I took my chance and got the shot.
In my eyes, the photo wasn't anything special. It had been shot on Auto and in JPEG as at the time I was too new and too scared to try to use manual or any other file type. Even so, I was pleased with the photo I had captured.
However, it seemed the judges of the UK National competition of Wiki Loves Monuments did think it was something special.
Knowing this, it gave me a boost in my confidence in my skills and potential as a photographer. It also gave me something to focus on, an interest in which to take photos – architecture.
Since 2013, I have continued to pursue my interest in photography, slowly improving my skills. I have also continued to partake in the competition, which led to one of my photos placing second internationally in 2014. I have had many of my photos which I have submitted also used across Wikipedia, despite them not placing in the competitions.
My message to those amateur photographers who are too nervous to compete against professionals, please don't be. I am proof that someone with limited knowledge of photography can create a special shot and place within a competition. However, even if your photos do not place, you are helping to build a collection of images of important historic buildings and an amazing resource for future generations.
This is even more important than ever with wars and natural disasters threatening and destroying historic architecture across the world. A prime example of this is the partial destruction of the Old City of Aleppo because of the Syrian Civil War. Thankfully, Wikipedia has numerous photos of the beautiful city from before its destruction. Therefore, if you can capture a photo of a Listed Building, then please do. You never know how important that one photo will be.