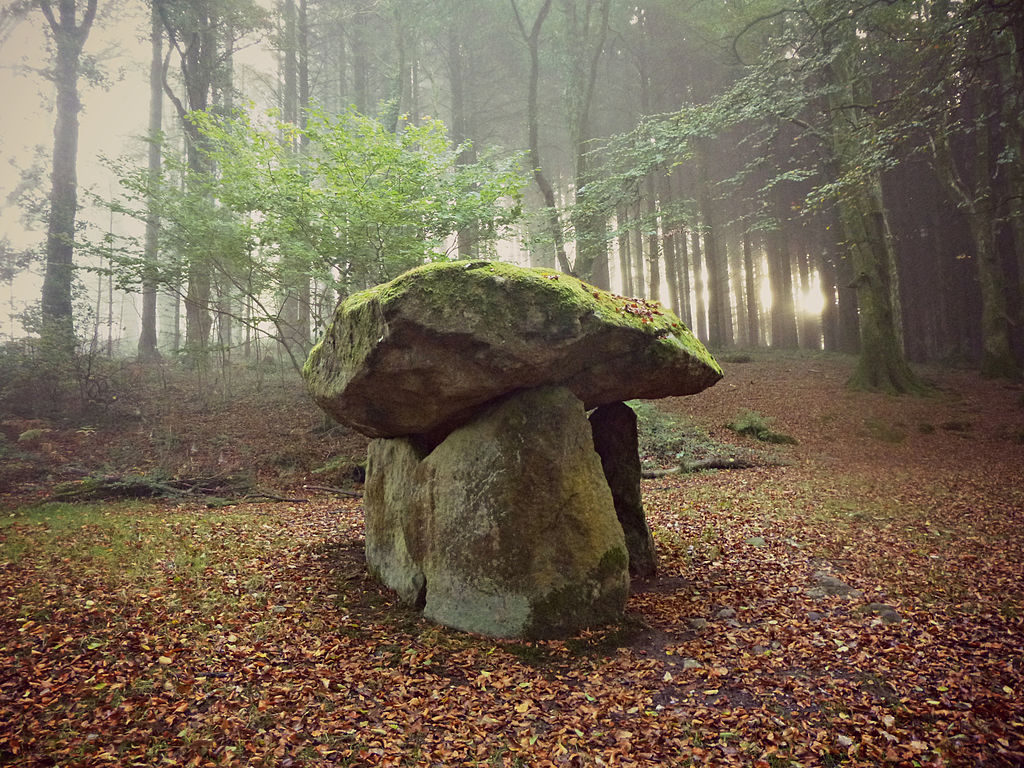 They say every picture tells a story… well, this is mine. It's about the relationship between myth and landscape and my connection with a 5,000 year-old cromlech (or dolmen) in Britain that goes by two names; Bwrdd Arthur ('Arthur's Table') and Gwâl y Filiast ('Lair of the Greyhound Bitch').
I first visited the cromlech one fine spring day – April 28th 2010, to be precise – shortly after I'd decided to write a book about the Muse. It sits on a hillside above the river Tâf, in a liminal place between two counties in Wales – Carmarthenshire and Pembrokeshire – called Cilymaenllwyd, which means 'retreat of the ancient stone' (cil: 'retreat', maen: 'stone', llwyd: 'ancient'). I was immediately enchanted by the place. Little did I know then that, three years later, I would come to live nearby and spend many, many hours here with my dogs, come rain (and snow) or shine, tuning-in and musing upon its original function and appearance.
There's an old Welsh legend, The Tale of Taliesin, that tells of Ceridwen's cauldron and her strange brew called Awen (Welsh for 'Muse'). The story goes that three magical drops touched Gwion's lips and he became wise (the name Taliesin means 'shining intellect'). I was reading The Mythology and Rites of the British Druids (1809) by Edward Davies and nearly fell off my chair when he said that;
"…in the tale of Taliesin's initiation, the table of Arthur is connected with the mysteries of Ceridwen, and in Llan Beudy [Llanboidy] parish, in Carmarthenshire, we find a monument which joins the name of Arthur with another name, which we can only refer to that goddess. It is called Bwrdd Arthur, Arthur's table, and Gwal y Vilast, the couch of the Greyhound bitch."
In the story, which took place during the days of King Arthur, Gwion turns into a hare and Ceridwen transforms herself into a greyhound bitch and chases him down to the river. Could this cromlech perhaps be the physical locale mentioned in the story? I don't believe this was a burial chamber or passage tomb – not sepulchral, but chthonic. In the Mysteries of Ancient Greece, initiation took place underground in dark spaces overseen by the Muses. In a sense, Ceridwen was a British Muse; a teacher of these ancient Mysteries in Britain. The cromlech was originally covered by an earthen mound where one could, literally, 'go within' and receive insight and inspiration, just as monks retreated to their 'cells' and hermitages.
I continued reading: "… the period which was employed in preparing the mystical cauldron, the anniversary of its commencement would fall, of course, upon the twenty-ninth of April." I looked at the date… it was the 29th April, almost three years to the day of my first visit (make of that what you will).
To me, this is more than just a photograph that I took one cold, winter morning as the sun rose through the mist – it's about the genius loci of a place; a reminder that the Muse lives on… by a cromlech in a wooded valley somewhere in wild West Wales.
Bydded i'r hen iaith barhau.
~ Karen Sawyer.
To find out more about Karen's forthcoming book about the Muse, you can connect with her on Twitter @impishkaren or email muse@arcconvention.org